Here you can find previous publications of Colour Youth. Whether you're interested in learning more or looking for literature for your paper, you are definitely in the right place!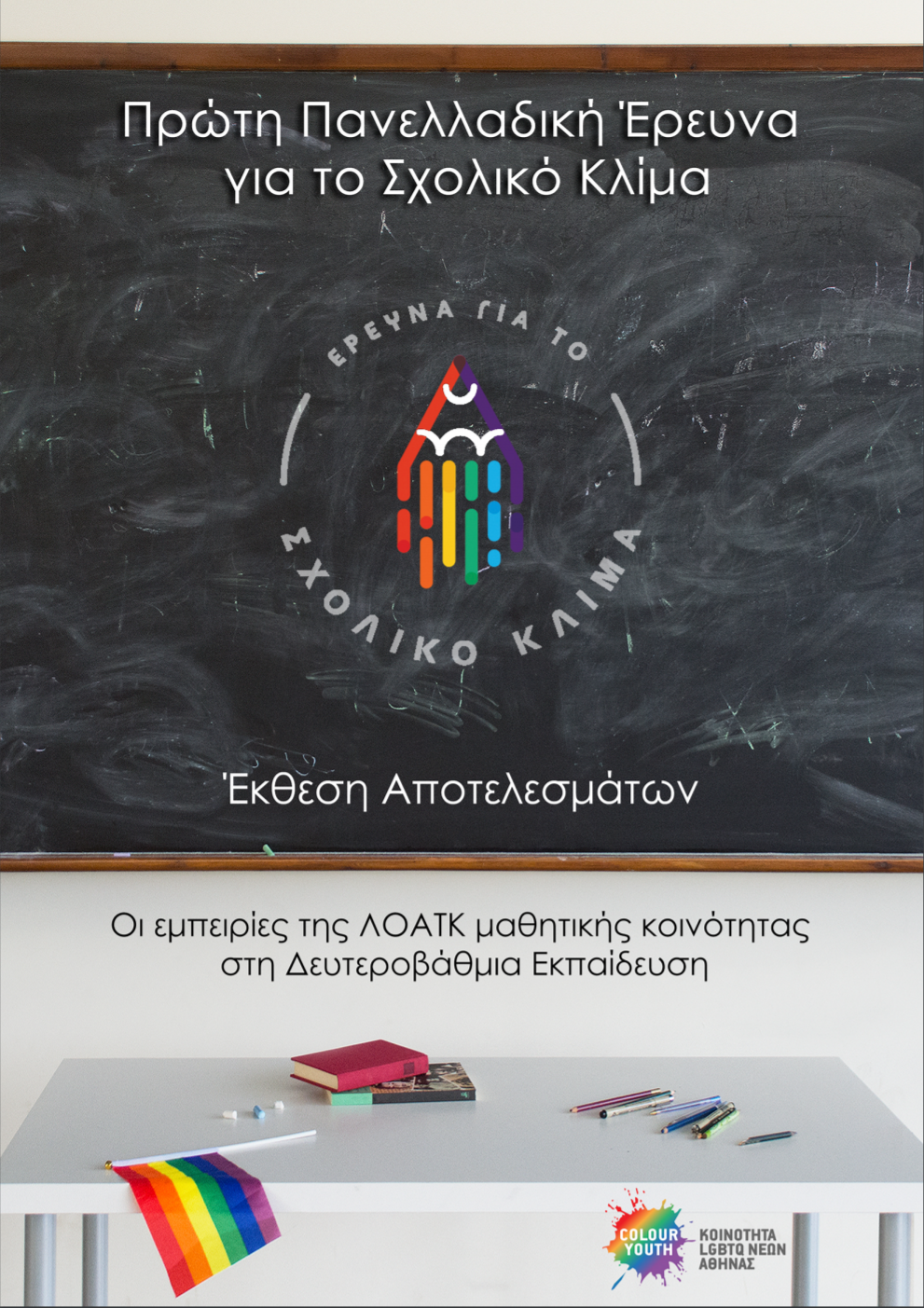 Πρώτη Πανελλαδική Έρευνα για το Σχολικό Κλίμα
Στο βιβλίο αυτό θα βρείτε τα αναλυτικά αποτελέσματα της Πρώτης Πανελλαδικής Έρευνας για το Σχολικό Κλίμα, όπως το αντιλαμβάνονται οι ΛΟΑΤΚ μαθητές και μαθήτριες.
Δείγμα της έρευνας αποτέλεσαν περίπου 2000 μέλη της κοινότητας των ΛΟΑΤΚ μαθητών και μαθητριών δευτεροβάθμιας εκπαίδευσης.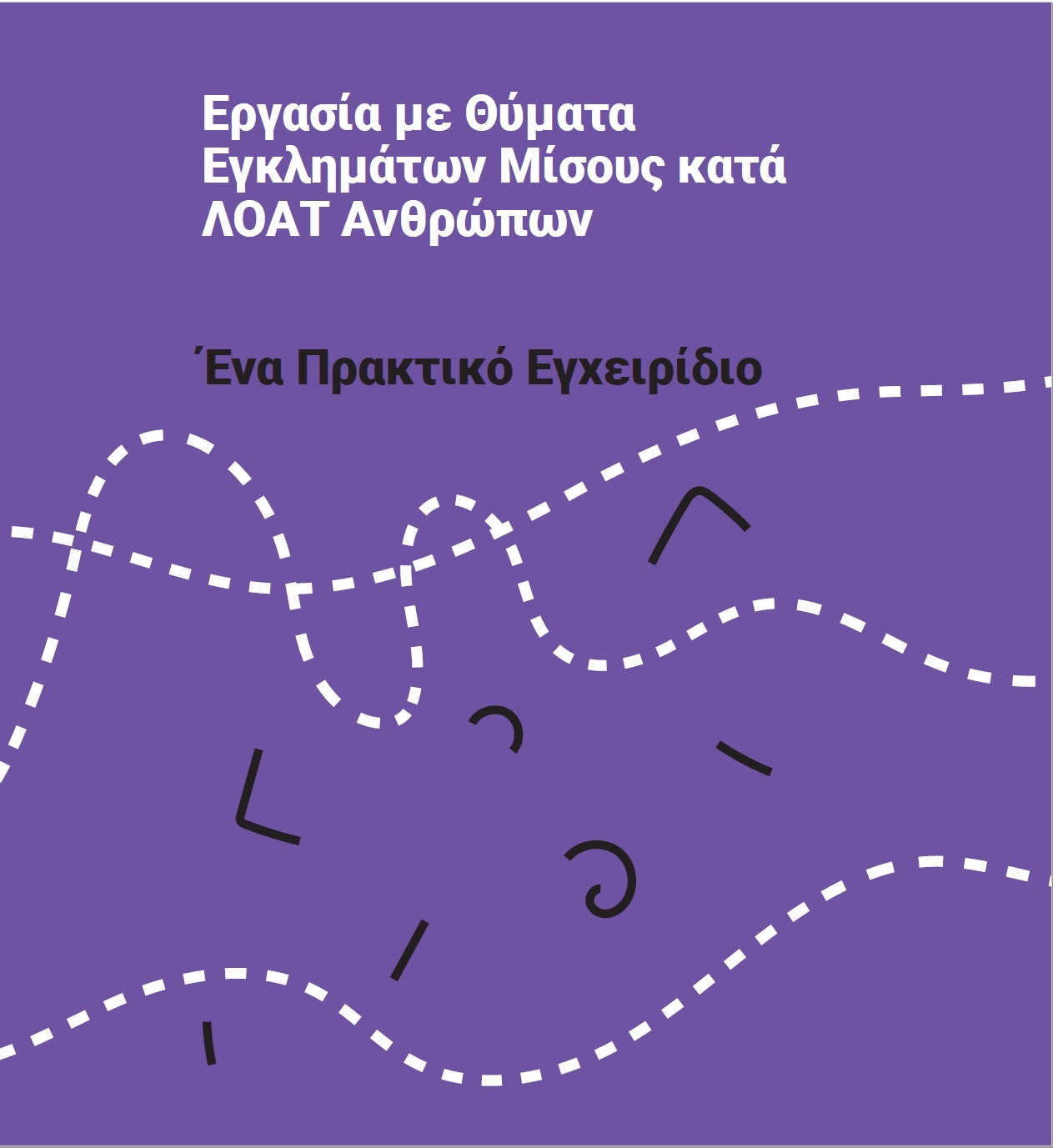 Εργασία με Θύματα Εγκλημάτων Μίσους κατά ΛΟΑΤ Ανθρώπων – Ένα Πρακτικό Εγχειρίδιο
Η έκδοση αυτή, η οποία δημιουργήθηκε στα πλαίσια του προγράμματος Come Forward: Empowering and Supporting Victims of Anti-LGBT Hate Crimes, είναι ένας πρακτικός οδηγός για άτομα που, μέσω της εργασίας τους, έρχονται σε επαφή με θύματα εγκλημάτων μίσους κατά ΛΟΑΤ ανθρώπων. Το εγχειρίδιο καλύπτει το νομικό πλαίσιο για τα εγκλήματα μίσους και τις διακρίσεις, τη φύση της βίας κατά των ΛΟΑΤ ανθρώπων, τα εμπόδια που βρίσκουν οι ΛΟΑΤ άνθρωποι όταν προσπαθούν να καταγγείλουν ένα τέτοιο έγκλημα, γενικές οδηγίες για τα άτομα που έρχονται σε επαφή με τα θύματα αλλά και την οπτική των θυμάτων
Την επιμέλεια της ελληνικής έκδοσης έκαναν οι Θανάσης Θεοφιλόπουλος (Colour Youth), Μαρία Μουδάτσου (PRAKSIS), Ειρήνη Σεραφείμ (PRAKSIS), Κώστας Φαρμακίδης (PRAKSIS) και Μαρία Κωνσταντέλ- λου (PRAKSIS)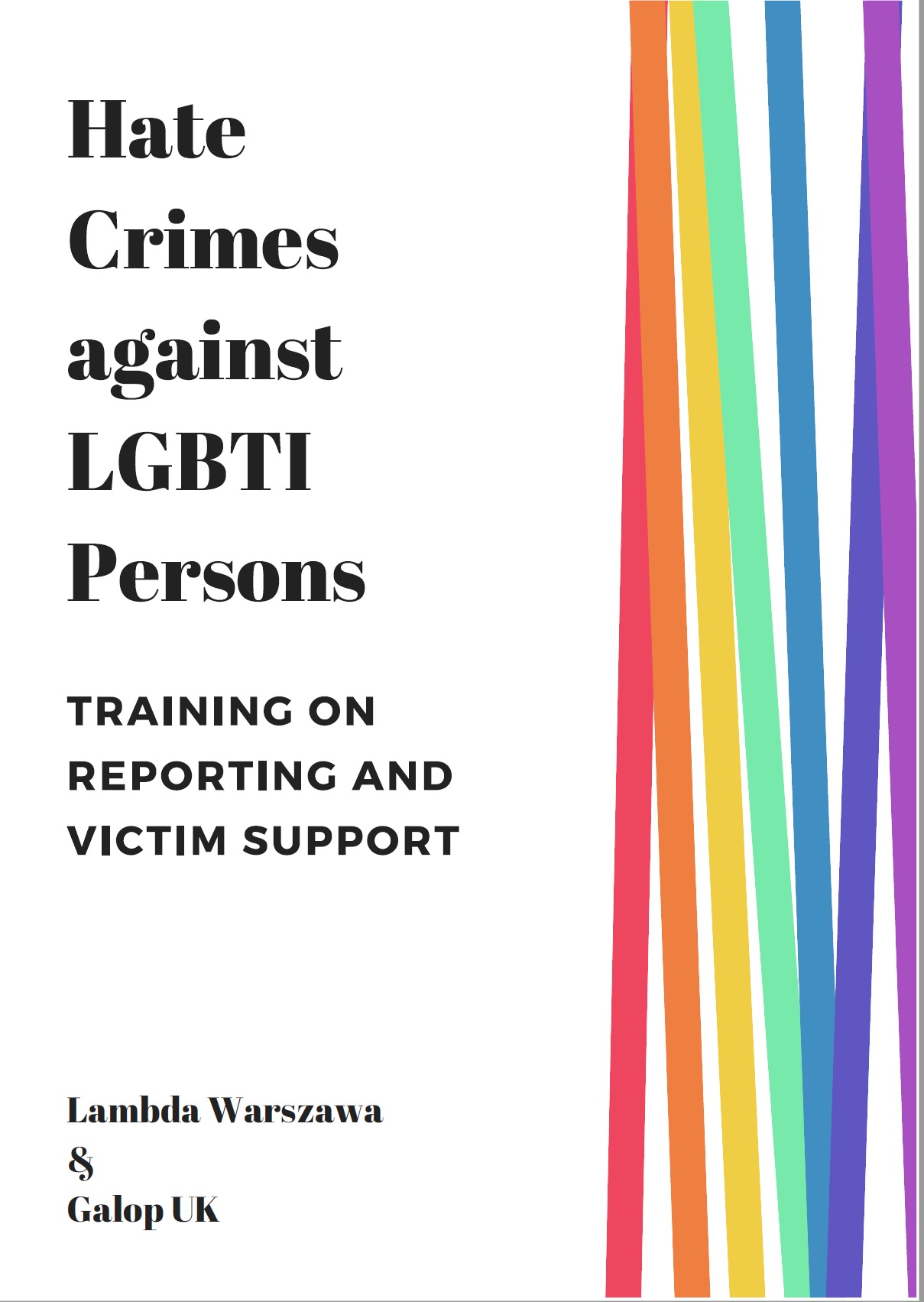 Hate Crimes against LGBTI Persons – Training on reporting and victim support
Διαθέσιμο μόνο στα Αγγλικά: Εκπαιδευτικό Εγχειρίδιο (Training Manual) για την αναφορά/καταγραφή εγκλημάτων μίσους κατά ΛΟΑΤΚΙ ανθρώπων και την υποστήριξη των θυμάτων. Η έκδοση πραγματοποιήθηκε στο πλαίσιο του Ευρωπαϊκού Έργου "ΒΓΕΣ ΜΠΡΟΣΤΑ! Ενδυνάμωση και υποστήριξη ΛΟΑΤΚΙ+ θυμάτων εγκλημάτων μισούς"
Τη συγγραφή διεκπεραίσωσαν οι οργανώσεις Lambda Warszawa και Galop UK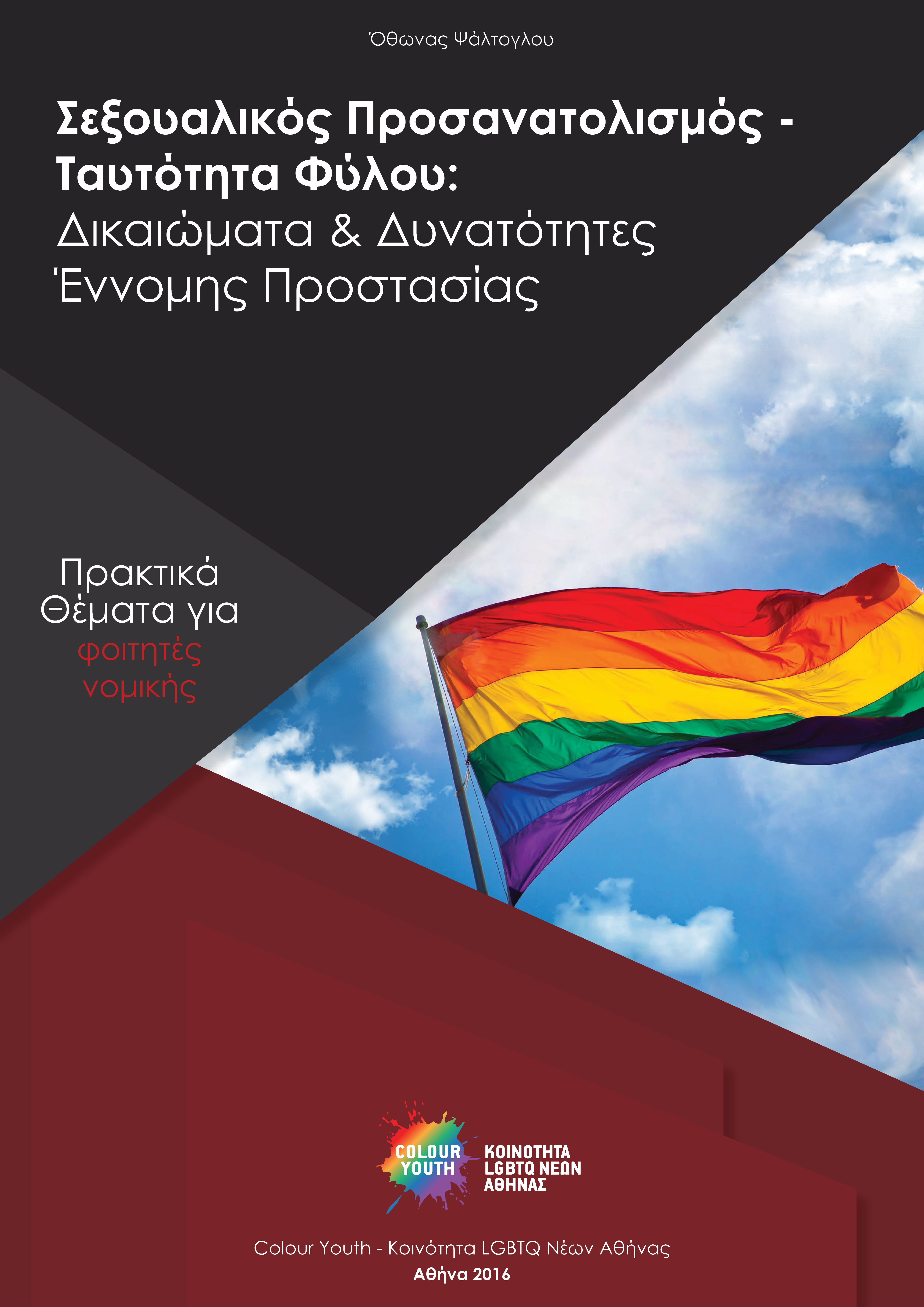 Sexual orientation - Gender identity: Rights & Possibilities of Legal Protection. Case Studies for law students
This publication is directed mainly (but not only) to law students who whish to acquire new knowledge or to enrich their existing one on the current legal framework which (also) concerns LGBTQ+ people.
Author of the book is Mr. Othonas Psaltoglou, lawyer, scientific associate of Colour Youth (Community of LGBTQ youth in Athens).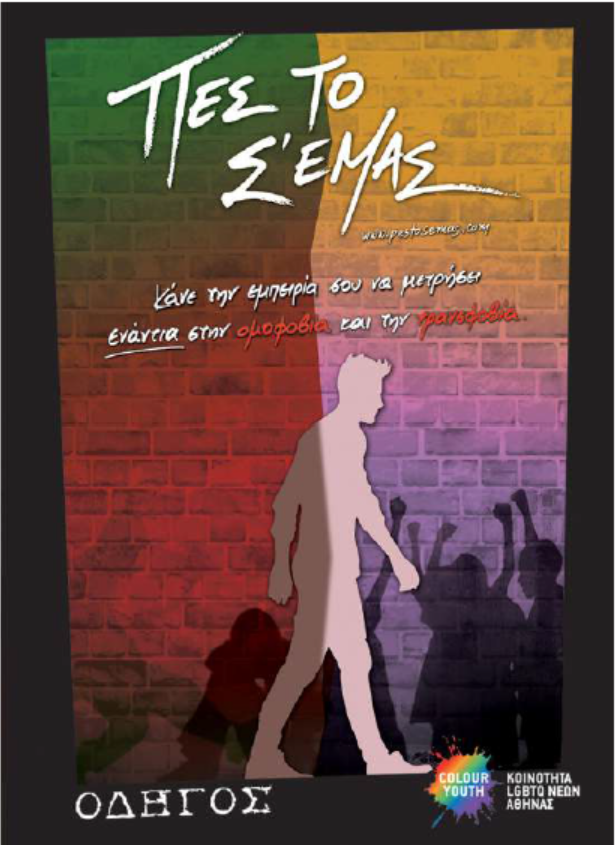 Brochure with instructions on how to react

to incidents of violence/discrimination
In the brochure you will find basic guidelines for the appropriate response to incidents of violence or discrimination based on gender identity, gender expression and/or sexual orientation.
This publication concerns not only LGBTQ+ people who suffer violence or discrimination but also witnesses of such incidents. In addition, this publication includes contact information of competent bodies where it's possible to report such occurrences and/or receive support services.
The legal protection of sexual orientation

and gender identity: combating discrimination, hate crimes and hate speech
The book was published in 2015 with the purpose of giving a detailed presentation of the national and international legal framework for protection of sexual orientation and gender identity.
Author of the book is the legal adviser of the Project "Tell it to us," Supreme Court lawyer and PhD candidate, Nikos Chamtzoudis. The foreword, introduction and the editing of the book undertook the Project's Manager, sociologist and PhD candidate, Thanassis Theofilopoulos.
Homophobia and Transphobia in Greece. A guide not only for professionals, but also for any interested citizen
The guide was published in 2015 and its purpose is to give reliable information and guidance to people who have experienced, are experiencing, or are afraid that they will experience violence or discrimination – because of their gender expression/identity and/or their sexual orientation – but also to all of the professionals in social agencies/services of the public and private sector, who come into contact with them.
Authors of the guide are the Project's Manager, sociologist and PhD candidate , Thanassis Theofilopoulos, and the psychologist of the Project, Eva Spinou.
Homophobic, transphobic violence and discrimination in Greece: Project "tell it to us" results report 01/04/2014 – 30/11/2015
The final report of the Project "Tell it to us" for the first round of operation was published in December 2015 in order to present aggregated and detailed results.
In the publication there are also included the official policies and demands of Colour Youth – Athens LGBTQ Youth Community.
Author of the publication is the Project's Manager, sociologist and PhD candidate, Thanassis Theofilopoulos.